Standard and Custom-Built Propane Delivery Trucks
We know how to build high-quality propane trucks. BT&T has been manufacturing propane trucks for over 42 years now. Our assembly process and precise engineering provides some of the most trouble-free, technologically-advanced propane delivery trucks, bobtails and propane transports in the industry.
Customizing Propane Trucks
BT&T can build high-quality propane trucks with standard specifications. But, unlike many manufacturing companies, we're also flexible and can work with companies to build propane trucks with unique specifications.
Whether you need your propane truck or transport for heavy-duty performance or if you have a busy delivery schedule and need more versatility, BT&T can custom-make the unit for you.
Customization Features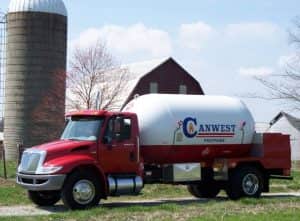 Our custom-built propane delivery trucks and bobtails can be manufactured to perform in many unique situations:
Manufacturing propane delivery trucks built to drive through heavy terrain
Configuring the propane tank and chassis for your custom needs
Customizing plumbing and fixtures
Building low mounts and meter boxes that are easily accessible during busy delivery runs
Creating extra storage areas for tools, delivery tanks and items for the driver
Mounting hose reels in areas that provide easy access by the driver
Installing a side mount reel in addition to the rear mount
Creating a top-mount hose reel with a safety alarm on the fill valve and spray fill (These are incorporated into the transmission's electronics making it unable to shift out of neutral without the hose hooked up. An audible alarm is also mounted in the dash to alert the driver.)
Finished Propane Delivery Trucks and Custom-Built Trucks
These are photo galleries showing some of our finished propane delivery trucks and bobtails, and featuring a few of our custom-built propane trucks.